Head-On Collision Lawyers in Naperville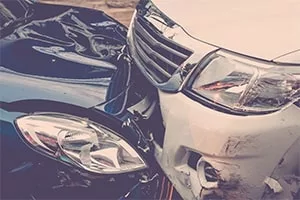 Head-on collisions, also known as frontal crashes, are generally considered to be the most dangerous kind of car accident. These crashes occur when two vehicles traveling in opposite directions crash into each other. They cause more catastrophic injuries and fatalities than other car accidents because the force of the impact is doubled due to the traveling speed of each vehicle. For example, in a head-on crash involving two vehicles traveling at 30 mph, the impact of the collision is equal to a car hitting a wall at 60 mph.
If you have sustained serious injuries or lost a loved one in a head-on collision caused by another driver, you will need the help of a knowledgeable car accident attorney. The aggressive, experienced lawyers at The Collins Law Firm will review the details of your accident, determine if you have a case, and go to bat for you. Our tough, highly rated Naperville car crash lawyers have recovered millions of dollars for injured people just like you, and we can help you get the compensation you deserve.
Statistics
Head-on collisions are so dangerous that despite accounting for only 2% of all auto accidents, they account for 10% of car crash fatalities. In Illinois, in 2018 alone there were 2,843 head-on collisions. Of those, 1,191 resulted in injury, 301 resulted in injuries serious enough to affect the victims for life, and 126 were fatal. Although these types of collisions are not very common, they are extremely serious when they happen.
Common Causes of Head-On Collisions
The most common cause of head-on collisions is driver error. These accidents usually happen when one driver ends up on the wrong side of the road and strikes oncoming traffic. This can be caused by impaired driving, distracted driving, or reckless driving. It can also occur as a result of unsafe passing, driver fatigue, or driver confusion (i.e. driving the wrong way on a one-way street or entering the highway in the wrong direction). Other causes that contribute to head-on collisions are hazards on the road, bad weather, and driver fatigue. Many of these crashes are more likely to occur in rural areas, at high speed, and at night. When these accidents do happen, the injuries are typically very serious if not deadly.
What to Do After a Head-On Collision
The minutes following a car accident are by far the most stressful, but they are also the most important. If you're able, there are steps that you can take to help yourself and your potential personal injury case at this time, and during the days that follow.
Your first priority should be to take care of yourself. If you need immediate medical attention, make sure to call an ambulance. It is common for adrenaline to mask the pain of an injury after a car accident, so an ambulance may be necessary even if you are not sure you are seriously injured. If in doubt, err on the side of caution and call an ambulance.
If physically possible, exchange information with the other driver(s) involved. Make sure to collect names, phone numbers, driver's license numbers, and insurance information.
Call the police. Once they arrive, be sure to tell them your side of the story and get a copy of the police report. Doing this creates a verifiable record of the accident and can be extremely helpful if you have a personal injury case.
While you are still at the scene of the crash, gather evidence if possible. Take photos of vehicle damage and your injuries and talk to witnesses and get their contact information. Take notes of the accident before your memory starts to fade and keep all clothing or other articles that were damaged in the accident. This evidence may be extremely helpful to your case.
Go to a doctor if you feel any discomfort or pain in the coming days or weeks after the accident. Being evaluated by a professional allows you to determine whether you have any injuries that may not have been apparent immediately after the accident (like concussions). And if you are injured, this ensures that you will receive the proper medical care and your injuries will be documented.
Keep all documents pertaining to your accident. Car repairs, lost wages, doctors bills, etc. Keeping a journal of the accident and how it has affected your day to day life will also be important.
Maybe most importantly, do not talk to the other driver's lawyers or insurance company agents. These are highly trained professionals who want you to say things that will hurt your case. Contact an experienced head-on collision attorney who will deal with these people on your behalf.
What Types of Injuries are Involved?
Besides psychological trauma, such as PTSD, that many people experience after a car accident, head-on collisions can cause traumatic brain injuries, facial injuries, internal organ damage, torn ligaments, broken bones, whiplash, spinal cord injuries, and even death. Some injuries may involve a long and difficult recovery, and some may cause long term physical or mental disability or permanent disfigurement. If you have been seriously injured in a head-on collision, you will need a tough, knowledgeable car accident attorney on your side fighting for your rights.
Proving Fault in a Head-on Collision
Often, in a head-on collision, the force of the impact propels the vehicles involved in different directions, away from the actual site of the collision. In this situation, it can be difficult to figure out how the accident occurred based on the position of the cars involved. This is why it is important to work with an experienced car accident lawyer who can acquire available video footage of the accident, record eyewitness statements about what happened, and retain an accident reconstruction expert if necessary to analyze the accident scene and damage on the cars to determine what happened and who is at fault.
Possible Compensation After a Head-On Collision
If you or a loved one is injured or killed in a head-on collision caused by another driver's negligence, your accident attorney will seek compensation for the following damages:
Hospital, doctor, and physical therapy bills, as well as the cost of future medical care related to the accident
Lost wages and future lost income
Pain and suffering
Compensation for disability or disfigurement
The cost to repair or replace the vehicle.
Wrongful death damages
Call The Collins Law Firm for Aggressive Representation
At The Collins Law Firm, our team of Naperville car accident attorneys will do everything possible to get you the justice you deserve. We have the experience and financial resources necessary to investigate your claim aggressively, hire the best expert witnesses to prove liability, and discover all the insurance policies available to you. If you or someone you love has been injured or wrongfully killed in a head-on collision, you deserve the best car accident lawyers on your side. Our firm has a track record of success working for people just like you. Call us at (630) 527-1595 or fill out our contact form for a FREE evaluation of your case.